Rotofit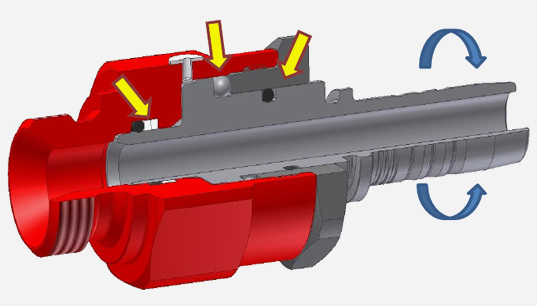 ROTOFIT eliminates hose twist and torque that may cause premature hose failure.
Twist and Torque are cause of premature hose failure. The connection system: insert-hose-ferrule is NOT designed to withstand repeated and high torsional moments.The level of torsional stress, is generated by the hose layout on the machine & application characteristics.

THE BENEFITS OF USING ROTOFIT:
Reduction of possible leakage points
Reduction of assembly cost
Risk reduction of assembly operation mistakes
More safety in severe working conditions
PERFORMANCE:
Working pressure  from 35MPa to 42MPa
15 alternative rotation x minute
40° of angle rotation
Working temperature -30°C +110°C with standard seals in NBR (other material on request)
Full flow design minimizes pressure drop
Cr3 surface coating
Looking for a part?
Checkout our online catalog
Our searchable online catalog will help you find your part quickly
View Online Catalog
Proud supplier of Manuli Products