Hose Shop in a Box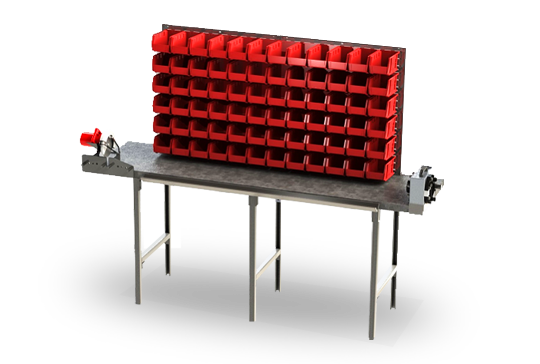 "Hose Shop in a Box" is a completely customizable hose assembly system designed to grow as you grow. From small service shops looking to attract new business to the largest garage maintaining a fleet of 100's, this system expands to meet your needs. It comes with everything you need to assemble hydraulic hoses in-house, minimizing downtime and saving you money.
Recommended starter packages are available for as little as $7999.00 and include the most popular fittings and hose combinations. Or, let us assist you in developing an inventory specific to your equipment needs. Proud to offer Hose & Fittings manufactured by Manuli and designed to exceed industry standards.
HOSE SHOP TABLE DESIGN
Durable Galvanized steel bench takes abuse and cleans up easily.
Rugged and resistant
žSafe, user-friendly design allows for fast and accurate assembly of hydraulic hoses in a space-saving design (8' long x 28" deep).
STARTER PACKAGE INCLUDES
žComplete 8-foot assembly bench with Crimper, Saw, and Bins.
žSelection of different fittings covering a wide variety of end thread configurations.
ž400 feet of Manuli Hose (100' each 1/4, 3/8, 1/2, & 3/4 inch I.D).
ž10 Popular Adapter configurations in all sizes to compliment the hose fittings.
Manuli Crimper MHP80 with Air/Hydraulic conversion and 6 sets of dies capable of assembling ¼" through ¾" with 80 tons of crimping force.
žHose saw – 110 volts, with 7" abrasive blade.
Premium Package also available and includes upgraded 11' workbench, 137-ton crimper, and larger hose saw. Premium package allows for the assembly of ¼" through 1-1/4" hydraulic hose assemblies with working pressures exceeding 5000 psi.
Looking for a part?
Checkout our online catalog
Our searchable online catalog will help you find your part quickly
View Online Catalog
Proud supplier of Manuli Products